Welcome to the Nottinghamshire Federation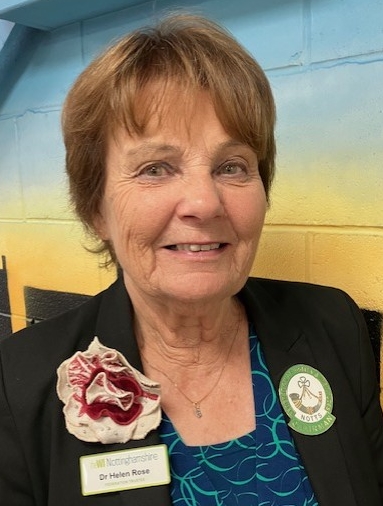 Helen Rose
Federation Chairman

Welcome to the Nottinghamshire Federation
For EVENTS, BOOKING forms and more details please see County Office & Downloads

FEDERATION EVENTS 2023/2024 How to apply: email via admin@nottswi.org.uk, or enclosure

below are just a few of our Events coming soon......

/
-----------------------------------------------------------------------------
Notts Federation has an Instagram account (NottinghamshireWI) and a Facebook page (NottinghamshireWI). It's great way to Share news! So tell us what you've been doing; what you've been making; or places you have visited. Let us advertise your events, promote your celebrations or get an answer to a question.
We are looking for interesting and inspiring articles and features so if you can help please get in touch; ideas are book reviews; film or tv reviews; recipes – food or drinks, craft ideas or quizzes. Get in touch via the accounts above or email suzanneplamping@nottswi.org.uk
----------------------------------------------------------------------------------------------------------------
Our headquarters, Trent Bridge House (County House) is located in the market town of Newark on the eastern borders of the county. The Board of Trustees & Teams bring everyone together to share in a range of activities, each team have their own web page with reports of events and the latest news. Do you want to Start a NEW WI ? Have a look at the information.
---------------------------------------------------------------------
We have lots of fun & laughter with a variety of events and classes with a mix of education and entertainment thrown in. Art, Craft and Sports - you name it we do it! . Our monthly Newsletter - The Hornblower keeps everyone informed. Our Campaigns & Communications Team are working hard on all our media platforms. We are a founder member of the Notts Biodiversity Action Group - BAG. Have a look at their website: www.nottsbag.org.uk
Nottinghamshire Federation was established in late 1917, we have 100 WIs and over 3000 members. If you are looking to make new friends or have recently moved into Nottinghamshire - come and join us. You can either type in your POST CODE in the search box at the top of the page or go to Find a WI. There will be a WI near to you or why not start a new one, please Contact us.
If you are visiting the area or have recently moved, please contact us here at County House, Trent Bridge House, Newark. Notts. NG24 8TE. Tel No: 01636 673550. email: admin@nottswi.org.uk.
Our staff: Sue Sanderson, Federation Secretary, Heather and Val, are always pleased to welcome visitors or call in for a cup of tea during office hours on Monday, Tuesday, Wednesday 9am-3pm. CLOSED THURSDAY & FRIDAY.
We will be delighted to see you.
Dr. Helen Rose
Federation Chairman