County Office & Downloads
County Office & Downloads
Hi from the County Office and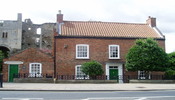 This is Trent Bridge House, Newark. (Link to its history)
Home of Nottinghamshire WI if you would like to contact us go to: Contact us or Contact Nottinghamshire Federation to submit an enquiry by email.
Downloads at the bottom of the page
The Office Angels are: Sue Sanderson, Federation Secretary, and Heather & Val.
Every month we send out Event forms and documents to every WI with our monthly newsletter - The Hornblower.
---------------------------------------------------------
February: Enclosures: 1.Delegate Linking List 2. Membership Pro - rata 3. Resolution Meeting 4. Accounts Notice 5. Bulb Scheme 2022 6. Coins for friendship 7. Treasure Trail & Lunch 8. Heritage Trail & Lunch 9. WI Insurance 10. County Quiz 11. Dine with Chair Jacksdale & Farndon
Events:
Below are enclosures for events and documents. Please click on the link to download and view.

To Book an Event email admin@nottswi.org.uk
with your Event, Name & WI or use the form
DATE
TIME
VENUE
CLOSING
DATE
BINGO VIA ZOOM
Thurs 27 Jan
7pm £12 inc bingo cards
ZOOM
19 Jan
Observatory Visit
Wed 2 Feb
7pm £5.50
Nottingham Trent University. Clifton Campus
24 Jan
COFFEE & SWISH morning
Thurs 17 Feb
11am - 1pm
County House
Forensic Experience
Wed 23 Feb
7.30pm £10.00
Oxton V H NG25 0SA
Extended
15 Feb
Literary Lunch
Thurs 3 March
12 noon for 12.30 £25.00
Ramsdale Park Golf Centre. Calverton NG14 6NU
17 Feb
Bleasby Welcome Walk
Fri 4 March
10.15 for 10,30am £10 inc lunch
Wagon & Horses Pub, Gypsy Lane, Bleasby NG14 7GG
9 Feb
WHIST Evening
Thurs 10 March
7pm £6.00
Rolleston V H. NG23 5SG
9 Feb
Presidents & Secretaries Workshop
Sat 19 March
10am - 1pm
£12 inc lunch
South Muskham V H, NG23 6EE
4 March
Redwork
Sat 19 March
9.30 for 10am
£18.00
County House
21 Feb
Bridge Day & Lunch
Fri 25 March
10am for coffee
Oxton V H NG25 0SA
23 Feb 2022
ANNUAL MEETING
Thurs 31 March
doors 9.30am £12.50 Delegate free
Nottingham Playhouse.NG1 5AF
14 March
Rummikub Competition
5 April
11 April
27 April
7pm £6.00
5/4 at Westhill Community Centre, Ordsall Retford
11/4 at Watnall WI Hall, Main Road, Watnall
27/4 at Bingham WI Hall, Station St, Bingham
7 March
Dine with Chair at Jacksdale NEW
Wed 6 April
12.30 pm for 1pm
£20 for 2 course lunch
Royal Oak, Palmerston St, Westwood NG16 5HY
19 March
Treasure Trail & Lunch NEW
Fri 8 April
10 am for Coffee £15.00
County House
28 March
Crochet for Beginners
Sat 9 April
9.30 for 10am £18
County House
14 March
Resolution Meeting NEW
Tues 12 April
2.00 pm £5.00
Unit 1, Trinity House, Linby
NG15 8AA
22 March
Heritage Walk & Lunch NEW
Thurs 21 April
10 am for Coffee £15.00
County House
11 April
Meet the Author
Fri 22 April
10.30 am or 1.30pm
County House
29 March
Dine with Chair at Farndon NEW
Wed 27 April
12.30 pm for 1pm
£20 for a 2 course lunch
Farndon Ferry Bistro, 5 North End, Farndon. NG25 SX
9 April
County Quiz NEW
Thurs 12 May
7.30 pm
At six venues around the county
see the enclosure for details
20 April
CLASSES & CLUBS on Zoom
To book please email admin@nottswi.org.uk
with Event, Name & WI
Day
Time
Chair Pilates Cost £5 a month
1st & 3rd Tuesday
2.00pm
Craft & Chat
2nd & 4th Tuesday
10.00am - 10.45am
Book Club Meeting
3rd Wednesday
2.00pm