County Office & Downloads
County Office & Downloads
Hi from the County Office and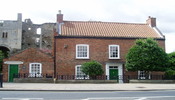 This is Trent Bridge House, Newark. (Link to its history)
Home of Nottinghamshire WI if you would like to contact us go to: Contact us or Contact Nottinghamshire Federation to submit an enquiry by email.
Downloads at the bottom of the page.
The Office Angels are: Sue Sanderson, Federation Secretary, and Heather (Right) & Sandra.(Left)

Every month we send out Event forms and documents to every WI with our monthly newsletter -
The Hornblower.
---------------------------------------------------------
October:
Enclosures: 1. Yearbook 2. 50/50 Application form 3. Survey form 4. S & L flyer 5. Photography 6. Stop press for WIs
Sue, Heather and Sandra.
Please look at News and Stop Press.
Events:
We have a selection of events for members. Some are free and others tickets. Some are on Zoom and others live. Below are enclosures for events and documents. Please click on the link to download and view.
EVENT
To Book email admin@nottswi.org.uk
with your Event, Name & WI
or use the form
DATE
TIME
VENUE
CLOSING
DATE
Fashion Show & Lunch
Wed 20 Oct
Doors open 11.00am
Lunch 12.30pm
Masonic Rooms. Nottm £25
Fraud Awareness
Wed 27 Oct
7.30pm
Zoom Free
None
Christmas at John Lewis

Mon 15 Nov

Wed 17 Nov

10.00 - 11.30am

5.30 - 7.00pm

The place to eat' John Lewis. Nottm £15.
18 Oct
Pilgrim Women Visit to Lincoln
Mon 29 Nov
Pick up
Worksop 9.15am
Newark 9.45am
Collection Museum, Danes Terrace, Lincoln
26 Oct
CLASSES & CLUBS on Zoom
To book please email admin@nottswi.org.uk
with Event, Name & WI
Day
Time
Chair Pilates Cost £5 a month
1st & 3rd Tuesday
2.00pm
Craft & Chat
2nd & 4th Tuesday
10.00am - 10.45am
Book Club Meeting
3rd Wednesday
2.00pm