County Office & Downloads
County Office & Downloads
Hi from the County Office and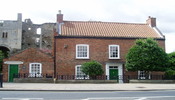 This is Trent Bridge House, Newark. (Link to its history)
Home of Nottinghamshire WI if you would like to contact us go to: Contact us or Contact Nottinghamshire Federation to submit an enquiry by email.
Downloads at the bottom of the page.
The Office Angels are: Sue Sanderson, Federation Secretary, and Heather (Right) & Sandra.(Left)

Every month we send out Event forms and documents to every WI with our monthly newsletter -
The Hornblower.
---------------------------------------------------------
November:
Enclosures: 1. Canada Cup Competition 2. Observatory Visit 3. Butterfly pattern 4. Bridge Day & lunch 5. River Seine Cruise 6. Afternoon Tea Etiquette Zoom
Sue, Heather and Sandra.
Please look at News and Stop Press.
Events:
We have a selection of events for members. Some are free and others tickets. Some are on Zoom and others live. Below are enclosures for events and documents. Please click on the link to download and view.
EVENT
To Book email admin@nottswi.org.uk
with your Event, Name & WI or use the form
DATE
TIME
VENUE
CLOSING
DATE
Pilgrim Women Visit to Lincoln
Mon 29 Nov
Pick up
Worksop 9.15am
Newark 9.45am
Collection Museum, Danes Terrace, Lincoln
26 Oct
Green Hearts Workshop
Mon 17 Jan 2022
7pm onwards

Kettlebrook Lodge, NG16 2HX Kimberley. We will also do some block printing and die cutting hearts to create some for a display

Afternoon Tea Etiquette
Wed 19 Jan 2022
7pm £5.00
Baroness Bolsover will meet you
In your own parlour (Zoom)
17 Jan 2022
Observatory Visit
Wed 2 Feb
7pm £5.50
Nottingham Trent University. Clifton Campus
24 Jan 2022
Bridge Day & Lunch
Fri 25 March
10am for coffee
Oxton Village Hall
23 Feb 2022
River Cruise France
Tues 5 April - 12 April

We are taking names of those of you who are definitely interested in this new venture. Please reply to County House no later than Monday 22 November by phone, email admin@nottswi.org.uk or letter to register your interest.
CLASSES & CLUBS on Zoom
To book please email admin@nottswi.org.uk
with Event, Name & WI
Day
Time
Chair Pilates Cost £5 a month
1st & 3rd Tuesday
2.00pm
Craft & Chat
2nd & 4th Tuesday
10.00am - 10.45am
Book Club Meeting
3rd Wednesday
2.00pm